Category Archives:
Holiday
Make 2015 Sparkle!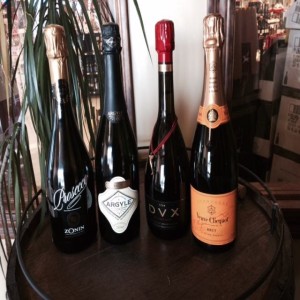 You may call it Champagne, Cava, Prosecco, or simply Sparkling Wine—we have a variety of bubbles for you to select to make your New Year sparkle! I recommend Zonin Prosecco($14.99), Argyle Oregon Brut($24.99), DVX by Mumm($49.99) or Veuve Clicquot Brut($56.99). To make a special 2016 cocktail, mix your bubbly with fruit nectars,  flavored vodkas,  Solerno Blood Orange or Limoncello liqueurs!  Here's to cheating, stealing, fighting, and drinking! May you cheat death, steal a woman's heart, fight for a brother and drink with me! Remember the New Year begins at Village West Discount Liquors.
New at VWDL:
We are happy to announce that we now carry your favorite Holy-Field Wines: Tailgate Red, Tailgate White, Corky's Barrel, Over the Rainbow, and Seyval!
Tastings, Appearances, Etc:
Holiday Hours: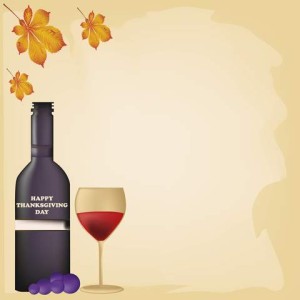 Don't stress out on Thanksgiving! Village West Discount Liquors is your Thanksgiving Day headquarters. Stop in to stock up on all the drinks you'll need to enjoy the long day of cooking, the quirky family members and the football games. I love this time of year because we finally take time to count our blessings, spend time with family and of course eat and drink like crazy! A lot of thought is put into the Thanksgiving menu and folks often wonder what drinks to serve.  Here are my recos:
Pinot Noir plays well with turkey because its medium bodied, versatile, yet complex—try Domaine Serene Pinot Noir from Oregon to compliment your holiday menu!
Another more structured option is Zinfandel—it's balanced and luscious enough to please your guests that prefer heavier red wines. Try Ravenswood Zin- we have three different single vineyard Zins to choose from.
For white wine drinkers, select try our new Shooting Star Riesling. With flavors of honeysuckle, orange blossom and citrus, it's destined to be a best seller!
Finally, I love a buttery oaky Chardonnay with dinner and Rombauer Chard wins hands down!
Consider making a warm cocktail with Kraken Spiced Rum, McGillicudy's Apple Pie Liqueur, and Apple Cider. Warm it in a pot and garnish with cinnamon sticks, apples, nutmeg and oranges then serve!
Happy Thanksgiving!
We are closed on Thanksgiving but open regular hours on the Wednesday before. Thank you for all your continuous support!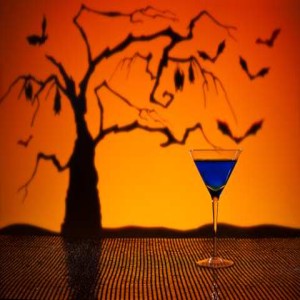 Instead of sneaking your kids' candy, enjoy a Milky Way Martini!
Add vanilla vodka, white crème de cacao, Bailey's Irish Cream in a shaker with ice. Drizzle chocolate syrup inside a chilled martini glass, then strain ingredients into glass. Serve!
I recently made another delish (and easy) martini with vanilla vodka, Fulton's Pumpkin Liqueur and Rumchata plus a splash of Grand Marnier! It's so smooth that it's frightening!
Wine drinkers will love sipping our deliciously scary red wines while handing out treats to the tikes! Our selection includes Apothic Carnivor, Apothic Dark, Avalon Sinister Hand, Poizin Zinfandel and Velvet Devil Merlot!
Sip a little tequila from a frightening skull with Crystal Head and Kah Tequilas. Just don't become a raging monster afterward!
Make a killer cocktail with Dead Guy Whiskey and apple cider. Dead Guy Whiskey has fresh orange citrus aromas and a delicately sweet, rich malt flavor coupled with oak, honey and vanilla.
I swear our beer section is chilling and slightly haunted but don't let that stop you from picking up some Bridgeport Witchhunt Spiced Harvest Ale, Left Hand Wake Up Dead Imperial Stout, or Rogue Voodoo Donut Beer or Dead Guy Ale.